A Unique(?) View of OFFENSIVE Skill Development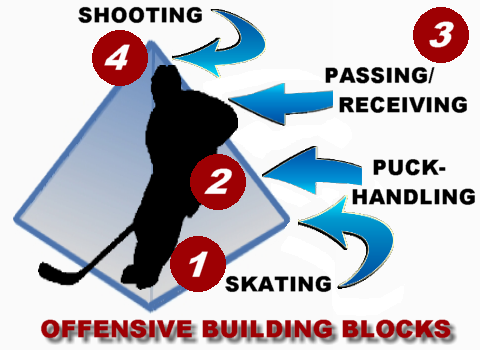 1 – For sure, skating is the name of the game.  So, it should come as no surprise that I see this skill as the foundation for all other areas of effective hockey play.  And, without capable skating skills, it would be difficult for a player to be an elusive attacker.
(Actually, if we were talking about defensive skills here, I'd also have to point out that great skating mobility/agility is required in order for a defender to keep-up with dangerous rival attackers.)
2 – What might surprise you is the significance I place on puckhandling — as the second most important offensive skill.  Please think about this, though…  Without the soft hands that usually come with great stickhandling ability, it's difficult for a player to be either an effective passer or receiver.  (Since "puckhandling" includes proficient use of the skates, players demonstrating this quality add even more moves to their attacking bag of tricks, and they are also more often able to corral errant passes.)  Nor can a player be a truly effective passer if he or she isn't able to handle the puck with his or her eyes up, thereby seeing rival defenders and open teammates.  Then, consider the fact that a great many goal-scoring opportunities require a puckhandling fake or deke.
3 – Next on the way to developing a very talented offensive player, I ask you to view passing and receiving as "skills".  Sure, these are important parts of tactical play.  But, great passes — sent dart-like and flat, right to a teammate's stick-blade — require great hands, or great skill.  And, as I hinted earlier, skilled players just tend to control more passes under difficult conditions.
4 – Then, with great skating mobility, with the hands of a good stickhandler, and with the sweeping motion acquired through proper forehand and backhand passing technique, a player ought to be a lot better able to sweep, wrist, snap or slap the puck on-goal.
Finally, consider addressing each skill within these Building Blocks areas both separately and in combination.  In other words, each progression within a given category should initially be mastered separately.  However, since our game calls for executing numerous skills in combination, drilling should gradually include these combinations.  (Take heart on the
latter; I'll ultimately be providing you plenty of ideas for complex skill drilling.)
Note:  If you haven't already, I'll highly recommend that you take a look at a related post, The Best Advice I Could Ever Share.  I it really is appropriate to all levels of our game.