If you think about it, our game is rather chaotic.  I mean, it's wild and crazy out there on the game ice, with players needing to constantly read and react to quickly changing situations.  And players also oftentimes need to bob and weave (and save their lives against body-checks) while at the same time lugging a puck.
So, how well will comfortably dribbling a puck or ball in place really prepare a player for that kind of game action?  I'd say, not very.
Oh, beginners need to learn almost every skill in place, and at a relatively slow pace.  However, if a player is preparing for real game-like challenges, he or she would be wise in learning to deal with numerous problems at once.  In fact, you may have noticed some examples of this sort of training among the short video clips I included in Critical Periods in Motor Learning.  (Take another look at that video if you want some immediate ideas.)
To be honest, I don't think it matters all that much what other challenge we add to puckhandling; the point is for a player to just deal with more than one physical problem at a time.
As an aside here…  I recall hearing a coach address this issue some time ago, suggesting something to the effect that, "We have to really overload our players' nervous systems!"
So, through the years, I've mixed puckhandling with all sorts of other simple challenges —  even ones as simple as jogging or hopping.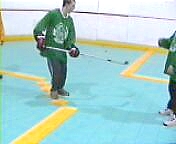 Although difficult to see in the above photo, that young fellow in green is jumping a long rope being twirled by two teammates.  AND, at the very same time, he's dribbling a golf ball, on the floor and even in the air!  Talk about dealing with more than one challenge at a time!