Although this post falls in the Goalies section, I'd like every parent (and coach) of a young player to drink in what I'm about to say.
The following came by way of our Ask The Coach link up above, it's about an 8-year old netminder, and I think my answers might ultimately provide some good food for thought for folks involved with any hockey playing position.
— Dennis Chighisola
Help for an Overwhelmed Young Hockey Goalie
Let me begin with some of the highlights from Todd J's email…
"My question is regarding my son…  he is 8 years old and plays goalie on a Novice team (this is his second year as a novice goalie).
He has amazing reflexes, and from day one has re-directed pucks and made blocker and glove saves.  He will take a puck in the mask, chest, legs, and not flinch a bit, but much to mine and his coaches dismay he will not 'drop down' or 'butterfly' to make saves, and rarely does so after he blocks a shot.
His team this year has several new to hockey players and it has been hard to watch him getting lit up. His last game was really tough, over 30 SOG, and the mercy rule kept the score board from showing the score, but after the first period it was 12-0. Bless his heart he stood in goal for the whole three periods and did make some great saves, but the fact he rarely drops to cover the puck = rebounds and the fact no one was there to clear the pucks allowed many 2nd, 3rd, and 4th shots, which of course usually means goals.
After the game, their coach kinda let into them a little, as they were standing around a lot and not moving. He told them they are better than what they played out there today. He also told my son he really has to do better and start covering the pucks. A point he makes clear…  during the games! I am afraid my son has 'shut down' and is now going through the motions just because he has to. I told him after that last game I was really proud of him and it took a lot guts and heart to hang in there and not to quit. I told him I didn't care, win or lose, as long as he tries and gives 100% that's what's important. I told him winning is awesome but we can learn more sometimes from losing, he seemed to take all this in stride, but after all he is only 8 years old!
In his defense, our association places much more emphasis on offense and scoring…  Practices usually consist of 15-20 minuets of skating drills, followed by some sort of development drills, and usually the last 15 minuets or so of the hour long practice is spent scrimmaging. There is no designated goalie coach or anything like that. Sometimes the goalies will get some one on one with one of the coaches, but no real technique training or basic skills instruction. Often the goalies are just cannon fodder for drills and such. I don't want to 'coach from the stands' as I don't skate or play myself, but it is frustrating to see him becoming more and discouraged without being shown the basics that might help him succeed.
What can I do to help my son?"
Well, Todd, while our CoachChic.com goalie coach — our own Todd J — is off recovering from an injury, I'm going to ask him if he might still take a few secs to comment from his perspective (I already suspect he's going to have a heart attack reading some of the above).  In the meantime, I'll be offering my own opinions as somewhat of a long time movement specialist and head hockey coach at numerous levels…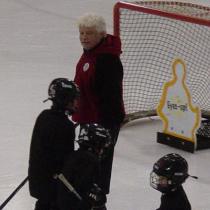 Before getting underway, I'll say that it's hard to totally criticize a young goaltender who spends a great deal of the time on his or her feet.  My old friend, Joe Bertagna, a noted goalie expert, used to begin every seminar lecture on the position by suggesting that (I paraphrase), "The ideal netminder is the one seen on the table hockey game — you know, the one that is frozen in an upright position and just slides back and forth."  😉
I will suggest that the game — and the position — has changed a lot in recent years, with top flight goalers using variations of the butterfly style, laying the stick down across the ice, and doing whatever else it takes to stop shots that are on or near the ice.
Personally, however, I'm thinking that there are points in a young goalie's development whereby his or her body does or doesn't cover a lot of space while down in a butterfly posture.  In other words, I'm not sure a little one's legs span very far across the crease, nor can the smaller youngster reach the net's upper corners with the mitt or the blocker.  Again, though, that is purely my thinking on the topic.  Moreover, I'm not suggesting young goalies shouldn't play the butterfly style; I'm only offering that it might be more effective when their bigger bodies help cover more net.
Looking at things initially with my movements hat on, Todd, something doesn't quite make sense as I read the first few paragraphs of your email.  I mean, it doesn't quite fit — that your son has great reflexes, and that he often handles shot after shot, but then he doesn't react downward to handle pucks that need to be covered.  ???
In yet another aside, Todd Jacobson and I have had conversations over recent years concerning first shots and successive ones.  And, not wanting to put words into Todd's mouth, I say that the first shot is all about technique — like having the right posture, getting on the proper angle, and thus covering as much net as possible.  With that, I'm thinking more and more that stops of a second and third and (God forbid) fourth shot become more and more about athleticism, reactions, and maybe even instincts.  Can movements from one posture to the next and the next be practiced and perfected? Absolutely.  However, I still say that those just noted three qualities play huge parts in a goaler making the follow up saves.
Now, being about 2000-miles away from you guys, Todd, I'm wondering three things, each of these at least possibly contributing to your son's unwillingness (or even fear) of moving up and down:
1)  What's the chance that your son is still wearing "skater's skates"?  The rounded blades on those kinds of skates serve an important purpose to forwards and defensemen, but they can make it very difficult for a youngster to perform typical goaltending moves.  I even think a few falls with the rockered blades could discourage a kid from wanting to move very much — be it sideways or up and down.
2)  What's the chance that your son is on the chunky or hefty side?  For sure, I've seen a lot of relatively heavy young netminders really labor with getting up and down.
3) What's the chance that your son's skating isn't really up to snuff?  I know a lot of youngsters gravitate towards what they believe is the safety of the small crease area, only to — little by little, maybe — discover that their lack of skating mobility really limits the area they can cover.
Please don't be offended by those questions, Todd.  I always begin with the simplest and usually most obvious questions.  So, while it's possible I hit the nail on the head with one or even two of those, it could also be comforting to you in knowing that at least those three things are in your son's favor. Furthermore, it may prove extremely helpful to other readers if they're able to go through that short checklist.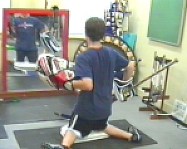 Switching to my head coaching hat at this time…  I think one of the things that Todd Jacobson will find frustrating is that your son's team doesn't have a volunteer goalie coach at every practice (as well as at the games).  Just so you know, I have head coached at as many youth levels as I have where I could hire special assistants, and I don't believe I've gone one season in over 40-years without having a goalie coach available for my kids.  At the youth levels, I'd either find a dad who had played a little goal, or I'd find one who might be interested in just studying the position and helping my kids.  At other times, I've found a local Midget or older goaltender who would be willing to come to our practices most every night.  (A lot of guys that age just love returning to help younger players.)  As Coach Jacobson would likely tell you, goaltending is a key to a team's success, yet it's ignored by far too many youth level teams.
By the way, Todd, I love your positive approach with your son, as well as your appreciation of his coach/es.  That said, you might still have a talk with his head coach, let him know that you're going to try to get your son some help, and that you're hoping the coach will find a way to keep encouraging the boy until things have a chance to get better.
With that…  If you could find it within your schedule and pocketbook, there is likely a good goalie coach for hire at your home rink or a neighboring one.  A once per week clinic would be awesome for a young goaler, but even occasional private sessions should help.
Then, something I really want to share — with you, and with other dads who feel a little helpless (regardless of the position their son or daughter plays)…  Depending on your learning preference, there are some great manuals and videos out there on teaching goalies (and other positions).  For your sake, Todd, you might scout around to find something basic, or something geared to where your son is right now.
The fact that you don't know much about the position — and the fact that you don't skate — shouldn't matter.  I can tell by your email that you're intelligent enough to stay ahead of an 8-year old when it comes to goaltending knowledge.  And, that's all you really have to do:  read up on or study a video that gives you the info you need to help your son for where he is right now.  If you think about it, that's what any of us parents have had to do to help our kids with their schoolwork — just keeping ourselves one step ahead of the latest homework assignment.  (If you'll take a glimpse at the last photo above, it shows a high school aged goalie Todd Jacobson and I trained in our off-ice training center.  Trust me, that tons of things could be done right at home with your son, especially having to do with his going down, recovering, etc. )
Although I probably don't need to say this, a lot of coaches might joke that, "There's nothing more dangerous than a hockey parent who knows just a little about the game."  So, those deciding now to study hockey ought to at least keep that in mind.
Lastly, I'm kinda hoping that you'll let me know what you think on all this, Todd, and maybe even answer some of the questions I've posed.  I'd love for members to jump in and help here, and it would also be helpful if anyone knows of a good goalie training manual or video Todd might find helpful for this stage in his son's development.  Then, as soon as I post this, I'm contacting Todd Jacobson to see if he'll weigh in on what I believe is a very worthwhile topic.
*
PS:  I hope those passing through don't overlook the help provided in these 600-ish pages.  Membership to CoachChic.com is about equal to the cost of one skate sharpening per month.