Since arriving in Florida over 2-years ago, I've only managed to unpack the bare necessities.  All I could manage to bring with me from my audio/video studio still remains in storage right now, and so do the many books and manuals from my library remain in boxes or plastic crates.
The latter hasn't slowed me a bit from reading and studying, however.  No, I'm nearly done my third hockey text right now, having just blindly reached into the nearest box and grabbed whatever was accessible.  Oddly, actually, all three books have been about old Soviet hockey, and all three devote at least some ink to the great Anatoli Tarasov, "The Father of Soviet Hockey".
And, as you'll discover, a number of entries concerning Tarasov reminded me of something I really need to share with CoachChic.com members (hey, the idea of this site is to keep you far ahead of others).
— Dennis Chighisola
Hockey Drill Ideas for One Help Many
Part 1   One of the things I loved about the late Tarasov is that he wasn't much into copying others (his thinking was that to do so would only make him or his team second best).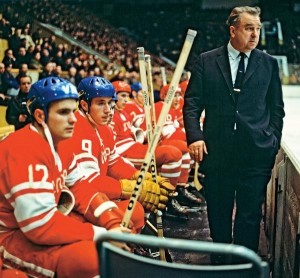 Now, let's not be so naive as to believe that he never borrowed ideas from others.  And I'll also tell you that I love to see what others are doing to solve a given problem; it's doubtful I'll exactly copy someone else's approach, but just the study often excites a different kind of idea in my mind.
I believe Tarasov didn't want to copy the exact style of play used by another school of hockey, the exact tactics used by another nation, or the exact same training ideas used by anyone else.  To appreciate that, all one has to do is revisit the first showdown between his Big Red Machine and the NHL All-stars, back in 1972, to realize the difficulties that North American squad had with the Soviets' style of play, their unique skill sets, and their superior conditioning.
Now, it wasn't until after the historical Showdown at the Summit that Canadian and US teams really got into the science of training hockey players.  I know, because I had the chance to mingle with higher-ups in both countries, before that series and for about a decade after.  And it was only after that series that most North American elite level teams started employing the likes of strength specialists, physiologists, biomechanical specialists and dietitians.
Okay, so Tarasov offers hints on his hockey ideas in his book, "Road To Olympus".  The second book I dug out, "The Big Red Machine", started planting the seeds for this article.  However, it's a book I'm now into, by the great USSR goalie, Tretiak, that really got me going…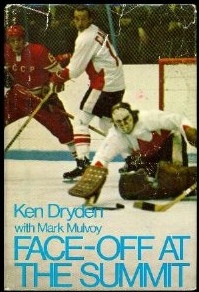 Tretiak recalls being elevated to work with the Central Red Army team at only 16-years old, noting that, "Tarasov devised new exercises specifically for me, including a few which I believed to be impossible.  And then there was the MOC drill.  MOC stands for maximum oxygen consumption; it has become the Central Army's trademark."
Later, while reflecting on matchups versus all-star teams from both the NHL and the old WHA, Tretiak offers to share a secret in reference to the Soviets' abilities to endure the tough physical poundings handed out by the North American teams, in that "the players of the Central Army Sports Club had spent the entire summer (in prep for the WHA series) specifically preparing for rough play."  Tretiak continues, "The coaches had invented new exercises to condition us for the increased contact.  They taught us not to be afraid of collisions.  We arranged 'cock fights' and even took boxing lessons."  (I'm familiar with another form of drilling that involved Russian players skating within bungee ropes, and then suddenly being jerked by a coach when it was least expected, that to simulate the abruptness of an on-ice collision.)
Part 2  Getting back to my main theme, it was the combination of those excerpts that reminded me of the way I've frequently invented new drills — out of necessity.  Not unlike Tarasov and some other innovative coaches, I've known that few, if any, drills exist that could help my players with their current problems.  What I fear some of you — member players, coaches or parents — might do is quit seeking an answer, just because it isn't readily available in some manual, over on YouTube.com, wherever.
With that…
My son was in his development years from about 1974 to 1982-ish.  Those who have coached their own for a number of years can probably appreciate me saying that a lot of kids will listen to Dad until sometime in their mid-teens.  Mike and I were fortunate, actually, because I coached him less on teams but fairly regularly in weekly skills clinics and through long summers of hockey schools (where more individual skills development probably took place).  For sure, I built some wild skating and puckhandling drills into those programs, with a lot of the challenges aimed at drastically improving Mike's skills.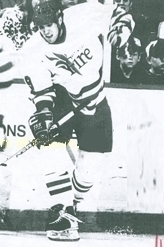 Here's one he ultimately balked at, however, probably because he'd become a teen by then, and perhaps a little more self-conscious…  By that time, he was getting his fair share of breakaways, and he was also pretty slick with the puck.  So, I suggested he carry the puck out-front for a time, flip it up in the air to about waist level as he neared the goal, and then bat the puck out of the air and towards a corner of the net.  My thinking was that the goaltender would have no way of predicting where the puck would go, and the goaler would have all the more trouble dealing with a rebound that came from those kinds of conditions.  Ya, that was a little "out there" for 1982-ish play, wasn't it?  But, I'll bet it's been some 20-years since attackers have been performing all sorts of plays with a puck that is up off the ice.  Was I ahead of my time?  I don't know.  🙂
Then, it's hard to date this next one — but I sense it was during the mid-80's, when the then head coach for the University of Notre Dame wrote and asked if I might help speed the skating of one of his otherwise pretty good players.  This was back before the days of email or online messaging, so the best we could do was to correspond by snail mail and the occasional telephone call.  Only getting a better and better sense of what his player actually looked like helped me design a simple drill now known around the hockey world as "ToeDrags" (I'm not talking about the stickhandling move, but a technique I designed to improve a skater's straight ahead speed).  I believe that drill can be found among either my "24 Must-do Intermediate Skating Drills" or my "29 Must-do Advanced Skating Drills".
Now, this next story is probably well known in hockey circles by now, but a young lady right off in-lining local streets — with no prior experience on the ice — inspired me to invent the Skater's Rhythm-bar.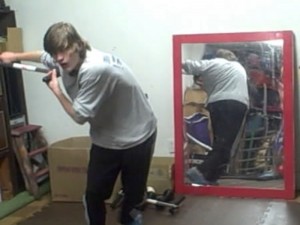 Oh, man, were her skating mechanics God-awful, as we might expect with an adult beginner.  So, as I've always done with hockey skill problems, I video-taped her stride from a couple of angles, and proceeded to study that video for countless hours.  I mean, it really was for countless hours.  Actually, something struck me rather early-on during those studies, but what was really going wrong — or what might remedy her problem — was a long, long way off.
As members will discover from another article I've linked below, though, the answer was really in what was going wrong.  In other words, I wasn't going to be able to arrive at a remedy until I clearly defined what was wrong.  And, that's when a realization that her entire body was out of sync led me to the first, crude Skater's Rhythm-bar.  Yup, her arms and legs were actually fighting each other, and my answer in the end had to be in bringing her whole body together in a smoother, more energy-efficient movement.
Next, along comes my grandson, a little guy who was totally different than his dad — in numerous ways.  As those differences relate to this entry, young Anthony contrasted his dad with a rather chunky body, and he seemed destined to be a little shorter and much thicker.  In fact, in his first turns on the ice, skating didn't come very easily to him.  Hmmmmm…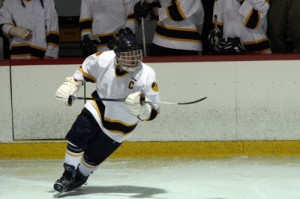 What Tony Chic did seem to love was fiddling with a ball and stick.  So again, hmmmm…
Now, I knew from the start that my little buddy, at about 5- or 6-years old, was never going to feel good about himself if he was compared to others in the skating department.  In fact, as I explain in my Diary post on "Performing Within Your Areas of Brilliance", Anthony was going to be either set up for success or failure, depending on how I helped him from the very start.
So, it struck me that I had to help him learn to score goals — and fast, before the negatives could creep in from his shortcomings.  I mean, all kids get jacked when they score, and a youngster who scores more than most others is going to feel pretty dawgone good about himself.
I also reasoned one other thing…  As soon as Tony C started pumping in the goals, he'd have the incentive to work on his skating.  Ya, I reasoned — and rightly so — that he'd eventually come to me and ask for help in that department (and he did).
Okay, my first hockey manual ever was called "500 Drills", and it sold pretty well, even to NHL, AHL and some European elite clubs.  Probably two-thirds of those drills were garnered from others, but the rest came from troubleshooting like I've described above.
In fact, I could go on about the results of more problem solving.  Those "must-do" skating videos I mentioned earlier were a result of problem solving, and they have at this point helped thousands of players.  The "MP Drill Format" stemmed from difficulties my old high school hockey team was having with their transition game, and that has been used by NHL and lots of other teams since its 1980 unveiling at the NHL Coaches Symposium in Montreal.  My "Think 'n Skate" Program" came about due to some difficulties I saw in my old college players, and it ultimately helped tons of younger students of mine grow to not have those same problems.  I even explain the way I came to inventing my "Chopped Stix" in that program's introductory video.
Going back to the drill I created for the Notre Dame coach and my son, I can say that it was put in my hockey schools and clinics shortly after, and I'm sure it's helped thousands of players to this point.  (Skills instructors who worked my camps and clinics and then went off on their own also spread the word.)
The Skater's Rhythm-bar is not on the market right now, although it should be later this year (and it'll be free to members at that time).  Before I hid it, though, I'm sure it helped a thousand skaters or more.
Then, getting back to my grandson…  If you want to see how he ultimately played as an older teen, have a look at the "Anthony Chighisola Prep School Hockey Highlights" video.  Actually, my young buddy's need to fill nets early inspired me to invent some new gadgets and drills demonstrated in the "Creating the Early Goal-scorer" video, with those things being used in my clinics, schools and team practices for something like the last 20-years.  Moreover, Anthony's needs had me scurrying to learn a whole lot more about dealing with big bodies, which also had me developing special drills for quickening the feet of big guys.  (Actually, a pretty big Junior level defenseman I never got to coach was going to benefit from some of those feet quickening drills, as well as other areas, like "Improving A Defenseman's Point Shots".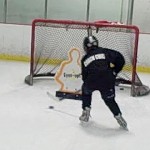 Okay, I know I've mentioned a lot here about how much my new drill ideas might have been initially aimed at helping one player, and how they ultimately helped a LOT more.  However, I also know first-hand that a coach can get the guilties heading into something like that — especially if the problem solving is done for the sake of his or her own youngster.  That said, I got over that stuff pretty fast, especially when I saw how much my troubleshooting benefited others.
So, that's my message here…  Get to studying players, no matter who they belong to, and presume ahead of time that your end result will help many, many others.  In fact, if you're built anything like me, you'll welcome challenges, with the knowledge that you're going to be a better coach with every problem you overcome.
*
One day the rep from a major hockey equipment company came to my office for a meeting, this to discuss the possibility of working together.  Midstream, I grabbed one of Anthony Chic's sticks that I always kept handy in my office's classroom.  Now, you have to appreciate that this was in a time when so-called "junior model" sticks weren't yet available for young kids — ya, they were stuck using cut-down versions of adult models that were heavy and too thick for little hands.  What the rep discovered was that I had been cutting and shaving adult sticks for Anthony that made them thin, super-light, and really wispy.  Based on the principles behind over-speed training, really, Tony C could really move his hands, and he could really crank a sweep or backhand shot.  Did I inspired the ultimate availability of such sticks for other kids?  I haven't a clue.  However, they ultimately appeared in local pro shops about a year or so after that meeting.
*
I highly recommend coaches read an old post of mine, "Where Do Hockey Drills Come From?"
*
In the event anyone thinks that just any old drills will do to help players get better, check out "(The Right Kind of Hockey) Practice Makes Perfect".
*
Talk about a drill — or in this case, a gadget — that eventually proved helpful to lots of young defensemen:  "Solving Hockey Training Problems".