These books and other media have been invaluable to me!
Clink the link at the bottom of this page to gain access to these Coach Chic recommended hockey materials…

Teaching Hockey Systems: Philosophies, Diagrams and Drills
By Michael A Smith
If you want an X's and O's manual that describes just about every playing system ever used, this is it.  (Actually, I have a signed copy form Mike Smith, and I keep a copy at home on my desk, another in the office, and another in the New England Hockey Institute library.)  This manual covers all the different elements of a playing system — ways to forecheck, backchecking against numerical rushes, defensive zone coverages, breakouts, attack plays, powerplays and penalty-killing systems.  (If you like diagrams, this book is IT.  If you need deeper explanations for the various plays, check within the CoachChic.com site.)
*
The  Hockey Handbook:  The Classic Teaching Guide
By Lloyd Percival (both original and updated versions available)

Most real students of our game refer to this as "The Hockey Bible".  Percival was far ahead of his time, authoring what some might call the most technical hockey manual ever written in the 1950's.  Interestingly, Percival was criticized by many of the so-called authorities of his day, mainly because his ideas and recommendations contradicted so many of the training methods used during that time.  Just as interestingly, I've heard that Gordie Howe actually met and trained secretly with Percival, just to escape criticism.  Some even say the old Soviets used Percival's book as a guide for their player development program.  My feeling is that a current day hockey parent or coach need only browse some sample pages in this manual to be absolutely awed.
*
Hockey Drill Book:  200 Drills for Player and Team Development
By Michael A Smith

Another awesome Michael Smith creation, and a resource every coach ought to have on his or her bookshelf!  As the title suggests, this manual outlines 200 drills — nice chapters in all — covering drills for skating, puckhandling, passing, shooting, conditioning, goaltending, checking, special situations, plus ideas for running an effective practice.  (Having met Mike Smith, I can say — in the most positive way possible — that he's a brainy guy who attacks every subject in a really cerebral way.)  One thing I like about this manual is that the rink diagrams/sketches are far easier to understand than a lot of others I've thumbed through.
*
Hockey Is a Battle: Punch Imlach's Own Story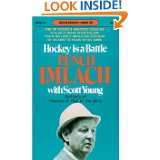 Punch Imlach's whole life has been hockey: when he joined the Toronto Maple Leafs in 1958 he'd already spent 20 years in the game. Within three months, he was running the team entirely as coach and manager. In the next 11 years, he took the Leafs from last place to first, won four Stanley Cups, and was fired.
This is Punch's own story of growing up with hockey, and of reaching the pinnacle of his ambitions with the Leafs in the Sixties. He takes you back to the days of the six-team NHL, and to all the greats of that era – legends like Rocket Richard, Bobby Orr, Johnny Bower, Dick Duff and Frank Mahovlich.
*
Although my favorite Tarasov book, Road to Olympus, is not available, this one is also awesome…
Tarasov: The Father of Russian Hockey : Hockey's Rise to International Prominence Through the Eyes of a Coaching Legend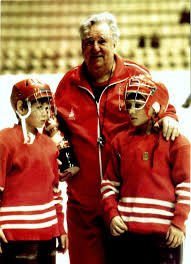 The father of Russian hockey, Anatoly Tarasov has left us a unique perspective on the history and development of hockey in his homeland. In this, his last book before his death in 1995, he provides a fascinating and informal assessment of the Russian and Canadian styles of hockey through the eyes of a world-famous coach. In an intimate context, Tarasov also talks candidly about players from Russia and other European and North American countries. Tarasov reveals how the Russian players were trained, both technically and tactically, on their way to becoming a dominate force in the world of international hockey. In explaining how the Russian players prepared to defeat the North Americans, including teams from the National Hockey League, he exposes the weaknesses and praises the strengths of the Canadian style of play.
*
Face-off at the summit
By Ken Dryden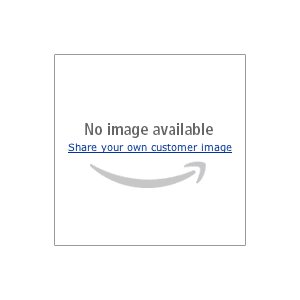 An excellent representation of numerous events surrounding the now famous 1972 "Summit Series" between Canada and Russia: 1) it reports what happened; 2) it shows how one good or bad game can have such an impact on a person (or people) when the pride of a country is at stake; 3), it gives an up-close look at the political maneuvering that went on behind the scenes during this historic event, and 4) it is told by one of the smartest men to ever play the game.
*
*
*
*
Howie Meeker's Hockey Basics
1973 by Howie Meeker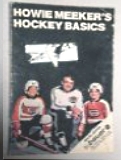 Believe it or not, this is one of the first books a young Coach Chic ever purchased, it was like a bible to me through my earliest years of teaching skills to Massachusetts area kids, and it still holds a special place in the NEHI library.  It seems to me that Meeker was one of the first (maybe after Lloyd Percival) to get into the real meat of playing skills.  In particular, "Hockey Basics" provides some great fundamental skating and puckhandling drills (some I still use 30+ years later), and I'd highly recommend it to coaches and skill instructors who are just getting started.  My understanding is that this book is out of print right now, but used copies are available through the link below, and they're VERY inexpensive.
*
The Strangest Secret – Single Audio CD, Digitally Re-mastered
2000 by Earl Nightingale (1956)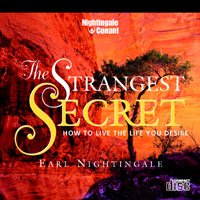 A classic by one of the giants when it comes to motivation and life's lessons.  Although recorded in 1956, Coach Chic frequently listens to his (old cassette tape) version regularly, and he finds every bit of it appropriate to succeeding in the world today.  A must have if you want to stay on track — in sport, business or life.
*****
Copy a title from this list, click the link below, and plug that title into the Amazon.com search box:
Teaching Hockey Systems: Philosophies, Diagrams and Drills
By Michael A Smith
The  Hockey Handbook:  The Classic Teaching Guide
By Lloyd Percival
Hockey Drill Book:  200 Drills for Player and Team Development
By Michael A Smith
Hockey Is a Battle: Punch Imlach's Own Story
Tarasov: The Father of Russian Hockey : Hockey's Rise to International Prominence Through the Eyes of a Coaching Legend
Face-off at the summit – Ken Dryden
Howie Meeker's Hockey Basics – 1973 by Howie Meeker
The Strangest Secret – Single Audio CD, Digitally Re-mastered, 2000 by Earl Nightingale (1956)
*

CLICK HERE
to gain access to these and other Coach Chic recommended hockey books, manuals, audio recordings and videos
*
CoachChic.com is an affiliate for Amazon.com