Aaaaaah, should young hockey players be allowed to body-check or not?  That's a question that's raged on for a lot longer than many of today's hockey parents and coaches might think.
Actually, my son, now in his mid-40's, just escaped the first passage of such a rule.  I mean, he was just moving into Pee Wees when they (AHAUS or USA Hockey) eliminated body-checking for all levels below that.  So, whether it was good for him or not, Michael was able to give and take body-checks from his very first game (at 4-years old) to the very end.
Just thinking back, and trying to remember…  I don't believe Mike experienced more than a few dings in all his years of youth hockey.  (As I joked often back then, he was safer being covered from head to toe with hockey armor than he was playing or riding a bike around our neighborhood.)  For sure, the game got rougher, and he sustained more than his fair share of injuries beyond youth hockey, but that was as he passed through high school, Juniors and the pros.
Way back then, I was writing a hockey advice column for a popular magazine, and I lit into the powers that be pretty regularly and pretty strongly.  What might surprise you was that I spent more ink on their removing the slapshot from lower levels than I did in reference to body-checking.  First, my claim was that such a shot took skill, and it was — like most skills — better learned at a young age.  Secondly, I was noticing that kids weren't out shooting in their driveways as often as they'd previously done, probably because the most exciting shot of all had been taken from them.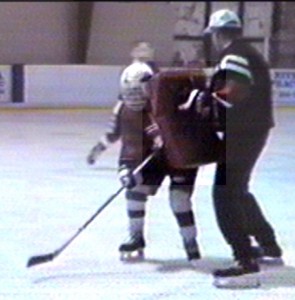 When I did go on a tear about body-checking, though, my frustrations were directed more towards the youth coaches at Mite and Squirt/Atom levels.  I just wanted to scream to them that, "They've removed BODY-CHECKING from your game, not checking!"  In other words, while the big hits were no longer allowed, the kids still should have been learning how to angle and steer and trap an enemy puckcarrier.
On the latter, one of the funniest and saddest things I've seen is when players just entering a body-checking level run straight at a puckcarrier — because they don't know how to steer and trap, and they plaster themselves against the boards-glass like Wiley Coyote!
In more recent years, my feelings haven't changed much on the need for slapshots and "checking" to be viewed as skills.  And, in my teaching coach's mind, body-checking would be easy as pie to teach if a kid already knew how to steer and trap a puck-carrying opponent.
Okay, so the arguments started all over again just a few years ago, when it was learned that USA Hockey intended to move body-checking up yet another 2-years.  Things got particularly heated among those dealing with the affected level, or mainly parents and coaches of Pee Wees.  Could I (or we) blame them?  For, whether they were right or wrong, the whole matter was personal to them, and it involved their kids and their teams.
Understand that I've only had one dog in this fight over 30-plus years, that being Mike's boy — my grandson, who wasn't permitted to body-check or use the slapshot through his Mite and Squirt years.
Already having been able to observe the goods and bads of those rulings over a generation, I knew how to handle things for Tony C's sake.  I encouraged him to practice the slapshot at home in the driveway, and to this day (having just completed his college career), folks will tell you that his slapper is pretty frightening.
What many fail to realize about the non-body-checking levels of hockey is that they still contain frequent collisions.  So, Anthony got plenty of early practice with contact — in my body-checking clinics and in my summer hockey schools.  That's yet another thing that seemed to stick with him, too, because he's been super-strong on his skates ever since.
I mentioned most of the above for a specific purpose, that being to suggest that I view more of these types of topics from a teacher's perspective than anything else.  Even my magazine column zingers aimed at USA Hockey were from a teaching coach's point of view, and had little to do with what most youth parents or youth coaches were screaming about.
I've also always at least tried to be a voice of reason (even if I might occasionally wield a venomous pen).  And in that frame of mind, this whole thing about body-checking has me really, really thinking…
Although I sometimes accuse USA Hockey of being little more than a huge insurance agency, and making many of their decisions based on the costs of such, I think I understand their outward want to limit contact related injuries in the younger ages.  I believe I've also heard them suggesting that some kids at younger levels quit playing because they're intimidated by opponents who grow a little faster than they.
I might argue with the former, suggesting instead that more injuries occur because kids haven't the skills to negotiate themselves out of trouble, nor can they control a fall or collide with the boards  without serious consequences.  I'll also take exception to the latter excuse, believing that more kids quit at the Bantam and Midget levels — because hockey is no longer all that enjoyable, and because they've developed more interest in another sport, another hobby, girls/boys, or the chance to work.
Still, for the sake of the rest of this discussion, I want to focus on some things I've read and heard having to do with the need to reduce specialization in a given sport, to lessen the emphasis on winning, and to just generally make the game more fun for the kids.
That being said, I'm here to suggest that ice hockey in the US might be ripe for a bold new step (and so might Canada and many European nations consider it).  Ya, what I'm proposing is the possibility of two separate forms of the game…
Those on the politically correct side of this issue will tell us that the game should be more like pond hockey for the kids.  Having done much of that in my youth, I can vouch for the fun part.  I also joined a lot of my old high school buddies on late night rental hours at local rinks, where we had a ton of laughs playing a game we loved.  And so did I play a little adult men's hockey, which was at least intended to be purely recreational.
On the flip side of the ledger, I grew up in youth hockey a kzillion years ago, and at a time when hardly any real teaching got accomplished.  (In fairness to my old coaches, maybe it's better to say that they just didn't have access to all the resources current day coaches do.)  The truth today is, many players want to keep improving and improving, and so do their parents want that for their kids.
So, at least personally, I see a huge wrestling match going on between those who want to see the game played purely for fun, and those who want to see their youngsters learn and develop skills and smarts for a possible future in the game.  Oh, and before anyone climbs all over me at that so-called "future in the game" statement, I don't have to be talking about making it to the NHL, but I could be looking to help kids who want to someday play on their high school's varsity hockey team, and maybe even hope to get a crack at playing in college.
That stuff in mind, here's my proposal…  Why not create a separate track for hockey that is totally geared toward recreation — toward having fun?  Given some time, I know I could arrive at rules that would prevent a single grownup from taking the game away from the kids.  At the same time, youth hockey as we know it today could be left alone in a totally separate track.
Much like pond hockey and pickup games, no body-checking would be permitted at any level of my new kind of league.   (For those who don't know me, my brain isn't wired like most others, and I've realized in just the last few minutes how no score would be kept for these games, but kids would still be psyched to come and compete.)
Okay, so that's it.  Call me nuts, if you will; I don't even mind.  At the same time, I'd like anyone passing through here to tick one of the choices in the below poll, and even leave a comment below that.  You have my blessing, whether it's with a thumbs-up or thumbs-down.  What I'd really love, though, are some positive ideas for ways something like this could become a reality.  I think the idea could make just about everyone involved in hockey happy.
Loading ...
*
If you think my approach is a little (or a lot) outside the box, wait until you see
my scientific approach to all our game's skills and tactics…  Click here to gain one month's
access to over 600 articles, videos and audio programs — for just $1.00.