As members will discover, I have no argument with young athletes needing to enjoy their experiences — whether on ice, on a field, or on a court.  What I do have a HUGE problem with is the use of some faulty studies that suggest that hockey's dropout rate is all that "alarming".  Then, if there's something else I want to suggest here, it's the importance of an earlier message to you, or my hopes that you "Take All Hockey Advice with a Grain of Salt".

— Dennis Chghisola
Is Hockey's Dropout Rate THAT Alarming?
Okay, I'm going to try not to crack my teeth or break my keyboard as I put this piece together.  However, easier said than done…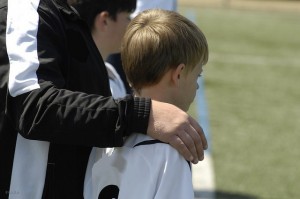 I could probably search Google and find a kzillion articles telling folks what the following one does.  Ya, in one titled "Play the Kids Before We Lose Them", we're told that, "The primary goal of youth sports should be kids having fun."  I can go along with that one, so long as the author isn't using it as a cop-out.  I mean, my experience tells me that kids join a given sport to both play and learn how to play better.  And, it's the second part of that sentence I fear some writers (and coaches) are running away from.
Here comes the clincher, though, as the author of that article goes on to quote something I've seen far too many times, as in, "The fact that nearly 70 percent of kids quit organized sports by age 13 is alarming to me, a true crisis. We have to get back to the pla…"  Geeeeeeeze, what a jerk.
Now, I don't have time to debate the numbers here, and it might even be so, that somewhere near 70% of the kids who begin one sport might not stick with it beyond about age 13.  What I am going to take issue with, however, is the connection that knucklehead draws between the dropout rate and fun.  Ugh.
Listen, "fun" is a very tricky word to define, especially as it applies to sport.  I have taken that on in a previous CoachChic.com post, though.  And, oh, would I love to debate the author in question on that very subject.
Let me paint what I think might be an interesting scenario here, however…
How about if we ran a team that had every young hockey player arrive at the rink, and then just go about whatever he or she might like?  I mean, put the gear on, head to the ice, and maybe just play with a puck or shoot on the goalie — for a solid hour, for every practice, for an entire season?  I suspect that a lot of kids would enjoy that, at least for a time.  Ya, for a time, or until the team met their first opponent.

I know I might have been half-serious with that example.  Yet, I've seen some horrible youth coaches over the years who ran practices not too unlike the ones I described above.  As a matter of fact, the ones I've spoken with told me their main objective (or excuse) was that fun is their top priority.  Of course, many such coaches were driven out of town on a rail — again, once their team met their first opponent.
Ya, as I began above, fun is a tricky thing, and it most likely has to include a mixture of playing and learning the game.  And I don't think the chance to laugh 24/7 has as much to do with hockey's dropout rate as some want us to believe.
As for the so-called study, my take is that one can glean just about anything he or she wants from asking the right questions to a group of kids…
Frankly, I don't think there's a human on the planet who ever quits something without blaming someone else, even if that's not his or her true feeling.
Just supposing a youngster has a legitimate reason for dropping out of a sport.  With that, I'm still betting you could get him or her to check-off boxes that suggest things like:   not liking the coach, the coach not liking him or her, not getting enough playing time, etc.
Again, it's not human nature to say that one doesn't like a sport for his or her own reasons.  As a matter of fact, do you really believe that option is even listed on such a so-called "study"?  Ha.
Now, hockey's dropout rate is probably a little (or a lot) different than that of other sports, mainly because of the costs — of ice-time, equipment, etc.  Still, I'm up for addressing all the youth sports here, as I've seen them over 20-years of playing three sports, over 40-years of coaching four sports, and quite a few years of observing family members engage in sports other than hockey…
A cute story…  The first sport I ever coached was Little League Baseball (where I won something like 10 or 11 championships in a row).  Still, all the winning aside, I still fondly giggle at a pair of brothers I coached for a couple of years who played simulated trucks and cars in a sandy part of our dugout floor when they weren't in the game.  Honestly, I loved those little guys as much a my star players, and years later I enjoyed waving to them, or stopping to chat with them, on the streets of downtown Whitman, MA.
Now, is it any wonder that those two youngsters decided not to move on in baseball once they graduated from LL League?  And, would you be surprised to discover that the next level began at age 13?  Yup, they'd have qualified perfectly for that so-called study.
I'll tell you something else you might find interesting, too.  For, I could also see who might drop by the wayside for other reasons…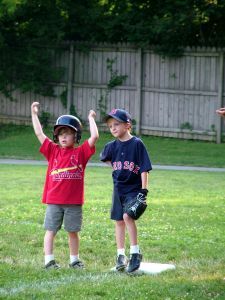 As a coach, it didn't take long for me to notice which kids showed alone for games, and which ones played with no one from their family ever watching.  Ya, I thought it sad, but it was true of some families, while other parents made it to practices and games.  That being the case, which youngsters do you think were more inclined to keep playing — beyond the entry levels of youth baseball or football?  And, once again, when did the choice usually come?  If you said around 13-years of age, "Bingo!"
I came to also realize over the years that some households were sports oriented, while others had very different interests.  That's not to say that every son of a NASCAR fan would quit playing sports after a short time, but you could almost bet that a lot of them would.
Very much connected to that last example is the child of a family that talks everything but the child's sport at the dinner table.  I've known such families — and I've loved them as much as any other.  Still, it's human nature, I think, that a youngster hoping to endear himself or herself to a parent will choose that other activity, or the one closer to a parent's interest.
Then, while I think I've provided enough reasons already for kids dropping out of sports, try this one on for size…
In case that author just stopped in to visit our planet, I'd like to let him know that major changes take place in humans when they hit about 13-years old.  Puberty, I mean.  For sure, their bodies change then, but so do their attitudes — as in suddenly having minds of their own.  Understand what I'm getting at here?  In other words, the parents may have enrolled their child in hockey, soccer, scouts or piano lessons, but this is about the time youngsters start to make their own choices.
Sure, one might say that a better sports experience would keep such a youngster in his or her game or activity.  Ya, one might say.  However, there's as good a chance that the new teen will rebel, and choose instead to go with friends, with computer games, or with the many other options out there today.
For all the years I've been involved in all sorts of North American sports, the player who WILL usually stay in a sport — at least for a while longer — is the one who has experienced a lot of recent success.  I mean, I doubt very much that a Little League All-star is going to easily quit playing baseball, the kid who regularly dominated on the soccer field isn't likely to give up easily, nor will the 6-foot 13-year old quickly give up playing b-ball (at least until others catch up with him or her).
Do pretty good players quit at some point?  Of course they do.  However, I'm going to suggest that they quit more often for the reasons I've outline above.
One other thing…  Almost everyone I've noticed bashing North American youth sports has an alternative to sell.  Ya, I sell hockey advice, too, which puts me in that group.  I am not, however, trying at every turn to tear down the very foundations of our youth sports programs.  With that, I tend to look for some underlying motive for a guy or gal to suggest major changes in our games.  I think some are purely PC Police, and they just don't like anything that's deep rooted in tradition; some had bad experiences as a kid, and they think those experiences are similar to what every kid goes through; and some, as I've already stated, are looking to sell an alternative to traditional sport.
Winding down here, let me attempt to address what I think the author of that piece is trying to say.  For, his title tells us to "play the kids before we lose them".  Hmmmmmm…

Frankly, I think beginners ought to be given plenty of time to get their feet wet.  A little at a time, though, I think one onus is on the kids' coaches to teach them well, another is on the parents to give their kids a chance to improve, and yet another is on the kids to gradually apply themselves.
Let's face it, things are no different in the classroom where the kids spend a huge part of their time — they either learn the lessons or suffer some sort of consequences.  A little at a time, the same things are taking place in "real life", as kids learn manners, grooming, and other societal lessons.
I'm not saying that young kids should be benched for poor performance, although I surely would use that as a bargaining tool if behavioral problems arise.
Along this same line of thinking, I posted recently an article about giving trophies to kids for no apparent reason.  And here's another gem, very closely related, this one titled, "Mark Cuban is afraid of raising 'entitled jerks'".
Again, I'm not into pushing babies too hard, really.  In fact, talk to anyone who has seen me work with very young players, and they'll tell you I'm the closest thing to Mr Rogers they've seen.  🙂
Wrapping it up, let me suggest that hockey's dropout rate has less to do with that guy's piece, and a whole lot more to do with what's happening in a kid's life — physically, mentally, socially, and so much more.  No, it's not as easy as blaming some coach for being grumpy, or because of a lack of playing time.
As a matter of fact, as kids mature, they may decide to do more of one thing and less of another.  In other words, while a youngster might decide to give up football to play more baseball, that doesn't necessarily mean anyone did anything wrong to cause that statistical change.  Sure, one sport has lost a player, but the other has gained even more of that young athlete's attention.  Is something wrong with that?  I hardly think so, especially at around 13 or so years old.
*
It just so happens that I took on a few more kooks in a related post, over in my Hockey Diary.  So, please have a read there about how I believe "Helicopter Studies Muddy the Youth Hockey Waters".