Those who know me also have to know that the title up above is no accident.  I mean, I quite intentionally spelled the same basic phrase — Puckhog, Puck-hog or Puck Hog — different ways for good reason…
For one, it represents a needle in the side of a good friend and CoachChic.com member.
For another, I'm always willing to poke fun at myself.  And in this case, I probably deserve it.
— Dennis Chighisola
More on the Puckhog, Puck-hog or Puck Hog!
Okay, want me to get that thing about the "Puckhog, Puck-hog or Puck Hog" out of the way first?  Sure you do.  🙂
What happened was that my friend said he searched the CoachChic.com site for "puckhog", and he couldn't find it.  He was trying to do the right thing, I'm sure, by not asking his question if I'd previously addressed the issue.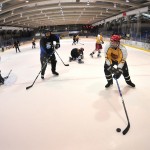 As for my part in all this, well…  I had written quite a bit about — pick one: "Puckhog, Puck-hog or Puck Hog".  The problem was, I spelled it two different ways, as in Puck-hog or Puck Hog.  Ugh.
Then, there's more blame to be shared in this word game, if our CoachChic.com search engine can't deal with slightly different spellings of terms.  In other words, although we don't have to like it, it's probably good to know that we do have to be specific as we conduct a search of the site.
That out of the way, here's the message I received from my friend…
"I have a 10 year old buddy "Roy" who's an advanced skater and they put him on a team with older guys. The team has been losing and Roy was put on a line that has a puck hog. This puck hog will always try to skate through 3-4 players rather than pass it. He hardly if ever succeeds in breaking though. He never passes, no matter how wide open his teammate is. The coach has tried to break this kid of the puck hogging but to no avail.  Meanwhile "Roy" still dishes him the puck and the coach has defined a role for him as a a puck-digging winger who can pass.
There's more to my friend's message, but I'd prefer to deal with one problem at a time.
I also have to say again that I have dealt with this issue in two other fairly lengthy posts…
The first one, Dealing with the "Puck Hog", is more general in nature.  As in most cases, though, you can believe I was sympathetic to the young puckhandler.  I felt the second article was a little on the sad side, because "Puck-hogs" and Their Parents Have Feelings too! describes the tribulations of a single mom of a very little guy who was just fortunate to get certain of his skills in place before a lot of his mates.  In fact, I probably had a hand in the latter, working with the boy in some skills programs, and then ultimately directing the mom towards a program that was certain to advance his attacking skills and especially his attacking mentality.  One thing everyone should know about that article, though, was that it described how a pretty nice lady was kind of abused by other parents, and even the coaches.
Okay, where do I begin on this one?  I guess by suggesting that I don't often trust the parents' opinions in these matters.  I'm not suggesting anything evil on their part, but I am suggesting that parents of kids who don't get the puck often CAN get rather jealous — even the best and nicest among them.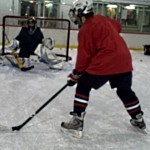 Partly for the above reason, I'd almost have to see a game myself.  I say partly, though, because there are so many other factors to consider.  For example, I'd point members towards an awesome new article (plus video) on this site — about Enhancing Offensive Support In Hockey, because it's all about the fact that most young kids have to be broken from the habit of just skating on the fringe, and not necessarily putting themselves in a good position to help their puckcarrying teammate, and REALLY get open for a pass. And things like those are good reasons why I'd prefer to see in person whether there is, in fact, a puckhog, puck-hog or puck hog problem.
When we're talking about fairly young kids, I also have to point to the coaches when there isn't a fair distribution of the puck.  I mean, yelling at or lecturing a kid about being selfish or whatever isn't going to accomplish a single thing.  Instead, I'd probably leave the issure alone for a time, verbally, but build in plenty of drills that get everyone passing, while at the same time making sure that kids who aren't so good with the puck can actually catch passes.
Oh, don't think that last point isn't true…  I've seen it plenty, whereby a good player will pass to a lesser player quite a bit early in a season, but then almost give up doing that after a given receiver constantly muffs passes or falls on his face each time the puck comes his way.
Speaking of coaches…  My suggestion is that the good, confident coach takes as much pressure off his or her players as possible.  It's the not-so-good coach who has kids worrying all the time.  And, let's face it:  no one can play well while worrying, and neither can a young kid have fun worrying all the time.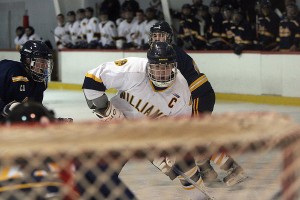 Now, I'm not saying that the puckhog, puck-hog or puck hog doesn't exist.  I think I did have ONE who drove me crazy in all the years I've coached, but the die was cast with that guy over the many years before I got him.  I am suggesting, though, that very few kids hog the puck on purpose. I'm further suggesting that perception of what's going on out on the ice can be wrong when it comes to parents.  And, I'm further suggesting that coaches should be in charge of what's happening with a team, and that more can be accomplished through proper drilling than will ever get solved by screaming, yelling or embarrassing a kid who carries the puck a lot.  Want to hear more about my feelings on puckhandling?  Listen to my recent podcast, Episode 8 – A Building Blocks Approach to Offensive Skills.
One last thing, however, because members should find the following in just about all I've written in other posts…  I mean, good puckhandling is desirable at the higher levels; that skill just has to be worked into a team concept.  Let me paste in something from another recent post, though, this from my article about the great Anatali Tarasov…
"Then, while so much is made of the old Soviets' team oriented style of play, it's interesting to hear Tarasov's belief in each player's need to be an outstanding stickhandler.  Oh, it's not for show, but only because slick stickwork makes it possible to beat a single defender and to disguise passes better for the sake of getting teammates open."
In closing, my friend added a personal perspective at the end of his message…
"I experience similar problems in my pickup roller games. There are some guys who just don't get it. They never pass and when they do, it's a terrible pass, high, off the mark, as if they don't care. One day I got so frustrated with a teammate, I threw my stick into the air.
How do you deal with a puckhog? I was looking for that topic on your website but
couldn't find it."
Now, that is a completely different story, and one that might be harder to either dismiss or solve…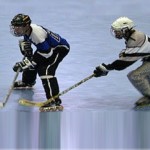 Up front, a lot of the guys who play in such leagues didn't play much sophisticated hockey.  Oh, they may have played some youth hockey, or some lesser level high school or adult rec, but it's doubtful they had a real schooling in the game.  No, they more likely got their hockey education from watching NHL games, and they picked up only what suited their fancy.
With that, I'll suggest something I mentioned in a hockey forum recently, when nearly the same problem was described…  I said that short of having a coach to control the team — as in other levels of amateur hockey, I think the players on the offender's team have to speak in unison.  I can think of no other way.
I urge members to follow the provided links, for a lot
of stuff I purposely left out of this post.