This might be one of the toughest questions I've ever had to handle — not because it addresses whether we should teach body-checking skills early or not, but because the input received from an earlier poll was so awing.
— Dennis Chighisola
Should We Teach Body-checking Early?
Now, the support for teaching body-checking early was fairly overwhelming — to a man, and even to the number of women who replied to that poll.  Each might have had a slightly different reason for their beliefs, or a different sense of how that teaching should be carried out, or even what constitutes "body-checking" work.  Still, it seemed that just about every responder did believe we should be teaching body-checking earlier than the Pee Wee or Bantam or whenever age.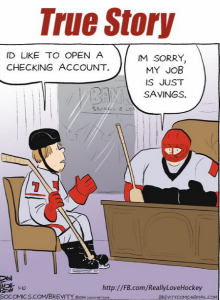 Now, I think we have to begin here with "Checking — The REAL Definition!"  I mean, I think we all know that newer (and maybe even more experienced) parents interchange the terms "checking" and "body-checking".  Ya, I know that it's easy to do that — because I tend to get lazy myself.  As the video I just linked above says, though, "checking" represents just about everything we do defensively, and the term "check" can ever be used as a noun — as in, "That guy is your check!"  With that, there are tons more terms or phrases with "checking" at their root — like backchecking, forechecking, hip check, cross-check, and of course, body-check.
Actually, although only members have access to them, the above linked post is the start of four videos with checking as their theme.  So, in them, I go from defining the term to dealing with rink markings and imaginary areas to treating the physical side of our game to some tactical advice at the end.
Now, before I start to introduce a few additional thoughts supplied by those who responded to our poll, let me provide some background ideas…
First, although body-checking isn't allowed in the lower levels, collisions do take place.  In fact, body-checking isn't permitted in adult rec hockey, either, but those guys also have more than their fair share of collisions.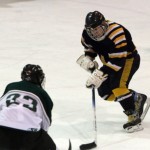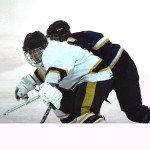 Secondly — and partly because of the previous line of thinking, hockey players just have to be strong on their feet.  And, in reference to that, I am often joking to my older students and players that, "You can skate like a ballerina or figure skater in open ice, but when you start moving into traffic, it's a whole 'nother story."   (My grandson acts as a model in the two adjacent pics — to the left worrying more about mobility; and to the right fighting to hold his ground, protecting the puck, and spreading his skates for strength and stability.  And, trust me, that the skills exhibited on the right are easily teachable — we just have to do it.)
A funny thing here…  I see a lot of YouTube.com videos with guys trying to teach us how to perform the skill shown to the right (it's often referred to as the Boston turn).  They seem to dwell on a lot of things I believe are wrong or just don't matter — like putting one skate too far out in front, sometimes permitting the skates to be close together, and emphasizing an exaggerated lean into the turn.  With that, take a look at my grandson up above, as he attempts to fight off the checker.  I mean, he had better not put one skate far ahead of the other, and he'd better not have his skates too close together.  In fact, leaning into the turn too much will have him fall on his head should the checker move away.  So, here's what I believe is most important in the Boston turn:  that the player spread his skates about shoulder-width, but then take almost all of his body-weight on the inside skate — more or less sitting over that skate.  Yup, that's right — he's not leaning in too much, and he could even pick up his outside skate — except to resist the checker, but it's not all that consequential in the turn itself.
Then, would you believe that I had my little Mites frequently do a drill I describe in "Beginner 'Boards Bumps'" that gets them ready for body contact (or collisions)?  Basically, they learn to stand in a strength posture beside the boards, and then rock and bump against the boards.  Trust me, that they will wobble plenty if they're not sitting low with the skates spread.  And, once that skill is learned, I have them coast alongside the boards and bump them every few feet — moving in one direction first, and then in the other.
Does any of the above have anything to do with body-checking?  Well…  Let's just say that all of those qualities would be helpful whether body-checking is permitted or not.
Then, hoping that helps make an argument for teaching some body-contact skills whether hitting is allowed or not, how about the mental side of the "checking game"?
To me, the worst thing a defensive player can do is haphazardly approach a puckcarrier.  I don't care whether it's defending as a backward skating blueliner or pressuring the puck as a forward forechecker.  And I don't care whether hitting is permitted or not.  I mean, if you want to look stupid, run straight at your man or play him in a way that allows an exit in whichever direction the puckcarrier wants.
The idea is to angle your man to one side or the other, and preferably to the side of the checker's choice.  Members will find the principles described in my video on "Implementing A Simple Forecheck – The 'L'".  Even adult rec guys and gals would benefit from learning to steer or angle and trap a puckcarrier…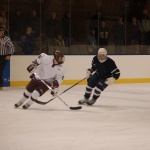 In general, the idea is to approach a puckcarrier from a 45-degree angle — usually into your forecheck's strength.  (Some coaches also like to see an enemy puckcarrier in the offensive end turned to have to handle the puck on his backhand as he looks up-ice to make a pass.)
Approaching with the stick held in one hand makes the checker look bigger, and it also helps to influence the puckcarrier in the direction we want.  (Notice the dark player swooping towards the puckcarrier in open-ice from about a 45, and also using the one hand on his stick to help influence the man where he wants him to go.)
The checker would like to put the puckcarrier in a state of panic — appearing to be closing quickly.  However, the checker must remain somewhat under control in order to not be beaten by a tricky puckcarrier.
Gradually, the checker closes the gap between himself and his man, still always maintaining the 45-degree angle.
The process isn't much different for a defenseman playing a single oncoming attacker…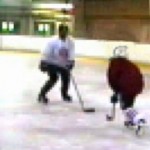 In other words, the D wants to jump towards mid-ice — thereby trapping his man to an outside lane, the stick should be held in one hand, he has to maintain close to a 45-degree angle and control the gap, and then gradually close that gap.  (By the way…  See that defender playing my grandson on the 1 on 1 to the left up above?  Well, he is a dead man, because he's leaning forward, seemingly looking down at the puck, and he can't react from that posture.  In fact, he's not dictating the play at all, but letting the attacker run the show.  The white defender in the adjacent pic might also be in trouble, because his straight-on positioning will likely allow the attack to go either way.)
Does any of the above require a body-check in the end?  Not at all.  Would all the above help anyone at a non-body-checking level play a puckcarrier more wisely?  You bet!  In fact, while all of this advice would help the adult player, I think it's imperative lead-up knowledge for a young player to perfect as he prepares to eventually play the hitting game.
For some added insight into this area of play, see my post entitled "Hockey's X's and O's Versus Playing Principles".
Then, one of the commenters suggested that players of all levels should learn the tactics called "stick on stick" and "hips on hands".  I teach the former, while I'm not familiar with the latter expression.  As for the former, the idea is to get your stick-blade on the blade of a puckcarrier as you play him.  The idea isn't to necessarily steal the puck with this ploy, but it pretty much eliminates a pass.
Yet another guy suggested that kids should learn how to "take a body-check".  Hmmmm…  I agree, but that's something that probably needs to be treated as the players actually near a body-checking level.  At the same time, some of the things I've already noted about prepping for collisions will help towards that end.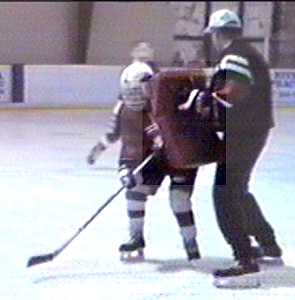 When one coach said that his team did a lot of off-ice work in this area, it reminded me to tell you that I adapted a bunch of football practice methods to teach body-checking out on the side lawn at our summer hockey school in Massachusetts.  The teenaged kids would dress like football players, too, with helmets, masks, shoulder and elbow pads.  Partners would walk slowly into each other to perfect putting the shoulder into the chest, we'd have pairs stand sideways and bump each other (as in the boards bump drill described above), and we'd play some fun contact games, too.  As the commenting coach suggested, this worked well in getting a lot of things accomplished before taking the same skills to the ice.  (I actually made my own "body-checking dummies" as shown above to the right.)
Yet another coach said that he cured his team's timidness by holding some competitive "light contact" drills, and I can see that working, so long as the coach is using his head.
Then, after reading so many "emphatic" calls for teaching checking skills early, I have to say that I have always done it, whether USA Hockey or anyone else liked it or not.  Ya, I'm a company guy, but I also feel I owe a lot to the parents who have entrusted their kids to me.  So, I am going to send my kids off to the next level as well prepared as I can (and that includes teaching the slapshot rather early, too).
Winding down here, I think I have to make one thing perfectly clear…  I am not espousing rough-housing or real "hitting".   What I am suggesting is that a myriad of "checking" skills should be taught to young kids, almost from the get-go, and to not do that would be a huge injustice.  I'm also saying that adult rec players should know the skills I've outlined above in order to play the defensive half of their game anywhere close to well.