Ya, and when I suggest you take all hockey advice with a grain of salt, that goes for my advice, as well.
— Dennis Chighisola
Take All Hockey Advice with a Grain of Salt
I know there was a time when butter was thought to be at least okay for you.  A little later, there was a stretch when it was thought to be bad for you, and "oleo" was recommended as a healthier alternative.  It seems to me that a time came later when margarine was believed to be no better for you than butter, and the two probably flip-flopped back and forth in the minds of so-called experts for quite a few years.  (Like in some other areas, I'll suggest that some of those studies were purely self-serving — by one industry or the other.)  Through all that craziness, I just shook my head, and continued to use either or both spreads, but in moderation.  Ya,  that was my way of taking everything with a grain of salt.
I happen to be a constant coffee drinker — morning 'til bedtime, and there was a time when I was projected to be a dead man by age 35.  🙂  Well, I've heard so many conflicting reports and studies in recent years, some even suggesting that I'm not doing such a bad thing after all.  (This just came to my inbox within recent days:  "How Much Coffee Would You Have to Drink to Overdose on Caffeine?"  Cutting to the chase, the article says, "… if you weigh 154 pounds, it would take about 70 cups of coffee for you to overdose."  So, even I'm safe — for now, or until another study disproves that one.)
And, while those things don't have anything to do with hockey, they surely should make my point about not getting too rapt in any new studies.
Ya, I hate to say it but, the same tends to happen when it comes to the science of training — in general.  I mean, it's true in hockey, in other sports, and in most areas of sports science.
For one hockey related example…  Not much has changed since we advised members a few years ago to ditch their pre-practice and pre-game static stretching routines in favor of a more dynamic warm-up that comes closer to the movements used in our game.  The prevailing belief is that the old way of holding a set stretch for a length of time — this going back to at least my high school days — somehow slows the reactions of players who desire quickness in their game.
My recommendation to take everything with a grain of salt isn't to suggest that we should ignore the above advice.  However, that doesn't mean we shouldn't expect that there will someday be new findings when it comes to better pre-practice and pre-game preparations.
As an example of that, I recently ran across some new thinking when it comes to cooldowns after heavy workouts.  For quite some time, I and others have been suggesting that massaging the muscles would help rid the body of lactic acid after a tough training session.  Now, however, it's believed that a massage will actually slow the removal of lactic acid.  Ugh.
Here's yet another good one…  I'm preparing some information right now that's going to be extremely helpful for member players of all ages (and even non-players who are into their own strength or fitness programs).  It involves a form of exercise that was in vogue when I was a high school athlete (about a century ago — 🙂 ), but something that for most of the years since then was thought to have little or no value.  All of sudden, well…
Now, after years of loving Twitter and Facebook for my social media fix, I've more recently really gotten into LinkedIn.  And I'm finding the groups I belong to there to be great sources of information and debate.  So, while on the subject of new info — or new studies, here's an interesting one that came by way of the latter social media site…
Quoting a recent study, the article goes on to say, "What we found is spectacular, the difference," said University of Montreal researcher Joceyln Faubert in an interview Thursday. "It's not just little.'"
And it goes on to note, "It's really how fast they learn new things," he said. "The ability to learn something is what makes them experts."
Faubert said that the study calls into question the common assumption that superior athletic ability is mainly about physical factors such as speed and strength.  Ya, there we go with there being one belief for such a long time, and now that belief is being shot down in spades.
"We all have stereotypes about athletes: 'They can't even say two words straight, they're not very good at expressing themselves' and so on,'" he said. "But their brain is busy doing something else."
In fact, he said, it's the "something about their brains" that sets apart top athletes. He cited the example of retired Canadian NHL hockey star Wayne Gretzky, who wasn't unusually fast or strong compared to other players in his league, but scored more points than any other player in NHL history.
This is obviously good news for those with kids in the game.  Oh, I'd already written a post that hints at this, in "How Sports Can Help Your Kids Outsmart Everyone Else", but the study I've been quoting brings that even further.
Oh, that study was done with elite level players.  However, those players didn't become that smart overnight.  No, if they were on track to make it big in their game, the hockey players among them were likely honing their mental skills as early as Mites, Squirts/Atoms, and right up the ladder.
Faubert continues in that article, "The stars are the ones that can really read the play, anticipate the play."  Ya, I can certainly go along with that, as I suggested in a recent article on teaching such things to our youngest kids.
Then, along this line of thinking…  I know I've written within long ago posts about drawing my High School Prep kids' attention to the Bruins' top farm team, that happens to play right down the road from Boston, in Providence, RI.  (We were lucky where we lived, because we were right between the two major cities, and able to go to games at both levels.)  Anyway, I always knew my kids wondered why some of the stars from Providence never got the call to Boston, or failed to stick with the big team when they did get the call-up.  So I'd explain that the difference between the two levels was usually the players' ability to think the game, particularly from a defensive standpoint.  In other words, it wouldn't help to score a goal per game in the NHL, IF a player was a liability on defense all the rest of the time.
Yet another area has changed a lot since most of us have become adults.  I mean, there used to be the belief that only the so-called naturals had a good chance of making it to the higher levels (of any endeavor).  That belief has gone further and further out the window in more recent years, thanks to the likes of a Malcolm Gladwell or Daniel Coyle…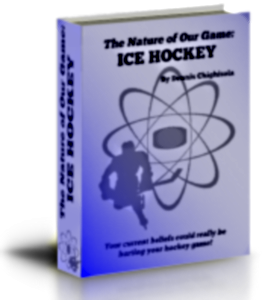 Nowadays, more folks are aware of something like The 10,000-hour Rule, my thinking when it comes to The Nature of Our Game, or the concept of "nature versus nurture" — referring to the difference in what comes naturally as opposed to the amount of effort one puts in to improve.
And, putting CoachChic.com members far ahead of others here, I introduced to you to "epigenetics" a few months back.
Still, all that said, that's not exactly what I'm getting at tonight.  No, when I suggest you take all hockey advice with a grain of salt, I'm really trying to convey the idea that we not take everything we hear around the rinks and online toooooo literally.
Listen, I've not only been a hockey coach for over 40-years, but I was a hockey parent and grandparent for well over half that time.  I've also always been a lot different than most clinic and hockey school directors, in that I've hung in plenty of rink lobbies, rather than hiding in some "Staff Lockerroom"…
Yes, I've likely hung where my readers now hang — in the bleachers, in a team dressingroom, and in rink lobbies.  And I've heard it all:  "You just HAVE to do this!" or "Whatever you do, DONT do that!"
Wives' tales, wives' tales, wives' tales.
Finally, however…  When I say, "Take all hockey advice with a grain of salt," I'm not suggesting we ignore any of it.  No, most of the examples I cited above were ultimately worthwhile to know.  At the same time, every single new idea requires some thought, maybe passage through a common sense test, and an assessment from all you might already know or be able to find on the subject.
Oh, and finishing as I began, I don't mind if members apply all this to my advice, too.