I've seen versions of the following numerous times over the years.  And, while each point is valid, I'll suggest that key "commandments" in hockey probably aren't limited to just ten (in fact, I'll someday let you know my rather extensive list).
Anyway, I happened upon the following graphic on Facebook yesterday.  And, although I shared it with my many friends on that site, I thought I'd try something a little bit differently for my CoachChic.com faithful.
With that, I'll show the original graphic down below, and then I'll do what I can to better explain each of the ten listed points.
— Dennis Chighisola

The 10 Commandments of Hockey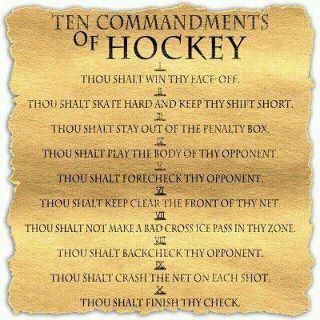 Those 10 Commandments of Hockey — Coach Chic Style

1) Without doubt, face-offs ARE important.  For sure, young players tend to dismiss them as necessary evils — like, "Come on, ref, just drop the puck so we can play!"  Still, I sometimes see that same mentality carrying over to older guys and gals, almost as if a given face-off isn't important.
Of course, draws become more crucial the closer they're held to our own net.  However, every face-off quickly determines who is going to control the puck next.  And, since the object of a game is to score more often than our opponents, it makes sense for us to want to control the puck more often than they do.  So, yes, thou SHOULD concentrate on every drop of the puck — from the centerman to every other player on the ice for us.
2) In general, this one is obviously correct.  If I had to question it — just a hair, it would be that a player usually needs to coast at times, then burst all-out, with a typical shift being a series of alternate coasts and bursts.  By all means, though, shifts should be kept short, with players staying intently focused for something like 30-seconds or so.
Personally — when it comes to keeping shifts short, I've always had as much concern for players on my bench as I do for those on the ice.  In other words, if players stay out too long, there's the chance that the guys who are sitting are getting cold, and they're especially getting out of the flow of the game.  (This is never so evident as when a team takes a series of penalties, forcing some players to sit for a very, very long time.)
3) Ha.  Penalties can just kill a team.  I've noted one way this can happen in the previous paragraph, but needless penalties can also be huge momentum killers or shifters.   Of course, some penalties can't be avoided.  At the same time, I've written elsewhere within this site how most penalties can be categorized — as showing a lack of discipline or selfishness, or demonstrating a mismatch in skills between two players (in other words, if a player is slow or out of shape, he or she is very likely to take penalties like tripping, holding or hooking).
4) Obviously, this one relates more to those levels where body-checking — or at least some body contact — is permissible.  And it's as important a principle as any for a player who finds himself or herself closest to a rival puckcarrier.  In fact, if you want to play right into a fancy puckhandler's hands, just look down at the puck for a second and see how he or she turns you inside out.  Ya, focus on the man's body if you're the closest player to a puckcarrier.
5) I don't have a lot to add to this thing about forechecking, except to share some points I often talk to my older players about…
If you think about it, our opponents want to do what they want to do as they gather a puck in their own end of the ice.  An enemy defenseman might want to feed a nice pass up to a near winger, and that winger might want to relay that pass to the centerman swinging by.  Yup, all neat and clean, and a nice way for them to begin a rush towards our net.
My guys, on the other hand, want to force the enemy out of their comfort zone — and make 'em do what we want them to do, until we're able to gain the puck back.
For sure, there has to be a design and a purpose to our forecheck, and that's the job of a coach.  From there, all 5-skaters have to know the different roles by heart — or apply them by instinct, knowing each teammate depends on the success of others.  Yes, forechecking is a 5-man job, with its true success depending on each player being able to do his or her own job exceedingly well.
6) Without question, a successful team protects its goaltender, and gives him or her freedom to move in the crease area and a clear view of the puck.  I tend to get really into this aspect of play, adding these pretty important principles…
First, "enemy sticks score goals".   Consequently, any enemy stick not somehow negated around the goal is very likely to catch a pass, deflect a shot, bang home a rebound, or prevent your goaler from covering up a loose puck.
Secondly, our guys covering in front of the goal must do so according to the location of the puck.  In other words, if an opponent controls the puck in a corner, the main danger is a pass to his mate out front.  On the other hand, when the puck is located out at a point, our defenders must clear the area — to prevent deflections, and to allow our netminder to  see the puck.
7) Ugh (because this one has already happened several times in my Bantam team's first few games)…   I'm kinda surprised, in a way, that this happens too often in older level games.  I'd have thought the principle of not making cross-ice passes in front of ones own goal would have been taught very early-on.
No matter, I actually take that a step further, by borrowing from the great Anatoli Tarasov, who suggested that straight-ahead and lateral passes are safest in your own zone, while long diagonal passes are rather dangerous.  In other words, that long diagonal pass crosses too many lanes and likely goes by too many enemy stick-blades.
🙂 Oh, ya, Number 8…  Thou shalt dawgoned backcheck!  In fact, every player coming back should realize how important he or she is — from the first backchecker to the very last one coming into our zone (I think we've all seen a fourth or fifth attacker go to the net and whack home a rebound).  And, going back to an earlier point, let me suggest that any one of our checkers who nears our net should be negating the stick-blade of their man.  Again, enemy sticks score goals.
9) You'd think it would be instinctive for our players to crash the net when they see the puck move that way.  Ya, you'd think.  Yet, I see far too many supposed attackers sit back as observers and miss some great scoring opportunities.  Of course, we coaches wish our players would react in the right way.  However, I accept part of the blame here if my players don't.  I mean, I'm the coach, and it's up to me to create drills that instill the proper reactions.
10) Hmmmmm…  Finish thy check…
For the longest time, I've blamed television commentators for confusing this issue, mainly because they tend to use that "finishing the check" expression when a big hit occurs, or when the hitee is knocked down.  To my way of thinking, though, the idea of finishing a check is to tie up the former puckcarrier so that some other things may or may not happen.
If the puck is still nearby, the body-checker's job is to focus on his man's body, and to keep him momentarily tied up so that a teammate may grab the loose puck.  On the other hand, if your man just dished off the puck to a mate, finishing the check — or staying on your man for an extra few seconds — prevents him or her from jumping back into the play for a return pass.
*
Okay, that's my two cents worth when it comes to these important playing principles.  Do you have any further ideas, or can you expound on what I've said?  I won't be offended in the least if you can add to (or argue with) any of these.