Call it nostalgia that had me post this old and faded photo here, because it sure will be a good reason for me to smile each time I pass through…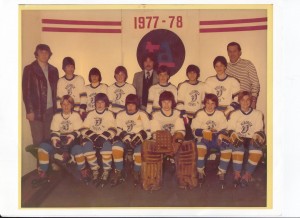 The 1977-78 Hobomock Chiefs

If I'm not mistaken, that was taken during the Montreal North Tournament, perhaps one of the nicest and best run tournaments I've ever been involved with. 
Now, although I can recognize most of the guys (I did do a double-take seeing myself in the back there with the long hair and mustache), I'd love for passersby to help me identify everyone for sure. 
As importantly, I'd love to be reminded of the few guys who were with us but didn't make it into this photo.  I know my son, Mike Chighisola, was out with a seriously cut finger, and I notice that a team captain and alternate are missing, as well as our other goaltender.
So, maybe anyone passing by could spread the word on this, and help to bring back a few more good memories. 
Especially, I would love it if each of the players (and coaches) would leave a message below and let me know how you're doing.
Thanks for the memories, guys         
— Dennis Chighisola/
Coach Chic
PS:  I wouldn't mind at all if other former Chiefs said hello, as well.  We're all family in this wonderful game!