This post will only be left available to non-members for a few days…
I have my social media friend, David Carlson, to thank for finding the enclosed video.  I'll tell you more about David a little later, but for now, I'm dying to get into what I'm referring to as "the latest hockey skating advice".
— Dennis Chighisola

The Latest Hockey Skating Advice
As an introduction here, I wouldn't blame members for feeling a bit confused about some skating mechanics.  You've had me telling you one thing, and a number of other fairly high profile skating coaches telling you something quite different.  Then, muddying the waters all the more have been some rather low profile guys who want to be heard, even if they're dead wrong.
Personally, I've taken a beating from both of the above described groups.
Almost a decade ago, my old partner published a video on YouTube called "Balance in the Forward Stride".  Man, did I get killed over that one — by fans of Laura Stamm, and maybe a hundred or so rec skaters who said they felt like the right way to pump was forward and back.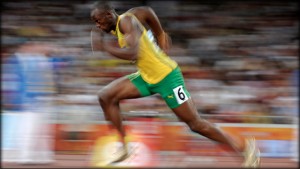 Recently I published what I thought at the time might be the very latest hockey skating advice.   I also thought it to be even more convincing — in "A Hockey Skater's Arm Movements", whereby Dr Michael Bracko, a PhD and Sports Physiologist, confirmed my long standing claims on that subject.  That post also included a link to a scientific paper referenced later by Dr Bracko, "Arm Action in Hockey Skating – Is It Being Taught Incorrectly?", wherein the authors take Stamm and some other skating gurus to task for teaching the wrong mechanics.
Before getting into the featured video, let me fill members in on another tidbit…  Older hockey fans might remember a former NHL coach who initially surfaced as a young coach with the old Quebec Nordiques.  His name was Pierre Page', and he'd actually done his college thesis on something like "what makes skaters fast".  Well, during off-seasons, Pierre often hit the hockey seminar circuit, and I recorded his lectures on skating analysis at least twice, if not three times.  I mention all this because it seems that little has changed in that area since I heard Page's first lecture.
Still, for most everyone else, the following video contains what they'd see as the absolute latest hockey skating advice.  It contains a lecture Michael Bracko gave in Slovakia last spring.  It's a long one — at an hour and twenty minutes, but well worth listening to every second…
Right off the bat, Dr Bracko jumped on the term "powerskating", much like I have over the years (see my Hockey Diary post on "An Open Letter to All AAA Hockey Programs", because my criticism of that term goes back about 30-years.  As Mike Bracko asks, "Is there more to skating in hockey than just power?"  Geeeeeeeze…
As Bracko gets into discussing physiology, kenesiology and the biomechanics of skating, I wonder how many of the wannabe skating gurus are getting a sick feeling in their stomachs, and a knowing that they're far, far over their heads when it comes to advising hockey skaters.  (Those guys can be found dominating Facebook's Hockey Coaches & Drill Forum, and moderating Reddit's Hockey Players group.  They don't have a clue, but they tend to get heard over guys like Dr Bracko and others with scientific backgrounds.  And, not knowing the latest hockey skating advice, they just keep perpetuating wives' tales that do nothing but hurt all those who listen to them.)
Oh, boy, do I wish I had Mike Bracko with me as I handled all the rocks thrown my way many years ago when I argued that the hockey player mostly has to rotate his or her hands, arms and shoulders more across the body, and definitely not in a forward to backward plane.  Yes, a hockey player's take off is much like a running sprinter, but after a step or two or three, he must move into what I've always referred to as "skating mode" — that requiring outward thrusts of the skates along with equal and opposite reactions by the hands, arms and shoulders.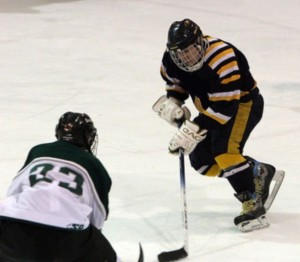 If I have an argument with Dr Bracko, it might be the impression he's giving in reference to gliding on one skate.  Oh, I totally agree with the fact that players don't purposely glide on one foot.  On the other hand, I will suggest that there are a lot of drills that need to be done — like hopping or rocking, forward and backwards — on one skate at a time, or touching alternate knees to the ice, just to help players deal with the times when they're forced off balance or to one skate.  As Mike noted early in his talk, Glen Anderson was tripped up, he found himself balanced on one skate, but he was able to right himself and go in to score a goal.  So again, while I totally agree that players don't ever purposely glide on only one skate, there are times when being able to handle off-balanced postures help them stay in the game action.
Aaaah, I recall Pierre Page' starting his lectures with the fact that "fast skaters have a wide stride".
As an aside here, I'm sure I've mentioned in long ago posts about having a young guy named Eric Flaim grow up in my hockey programs.  I had him for about 10-years — he was actually like a second son, staying at our house often to hang with my son — before going off to win a Silver Medal in speed skating at the ('88?) Olympics in Calgary, Alberta.  I also say often that I didn't make Eric fast.  No, he showed for my hockey training programs at 7-years old, and he could skate like a rocket then.  And, the first thing I noticed was that Eric moved in a deep seated position, as if sitting in a chair.  I mean that, that he had the deepest knee bend I've seen in over 40-years of teaching skills.
In actuality, I do think I've been teaching one thing wrongly over many years.  I mean, I've had a skater bring his or her free skate under the middle of the body in order to start the next thrust, and I only see now that that just doesn't agree with the concept of having a wide stride.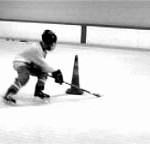 In reference to Page's and Bracko's recommendation for the quick recovery of each skate, I'll direct members to the "29 Must-do Advanced Skating Drills" video (available to members only), where I show a few drills I developed just for achieving that quick recovery.
I hope everyone got the point that "stride rate" is more important to achieving speed than "stride length".  And, that brings me back to Page's and Bracko's and my believe that "powerskating" — or long striding — is not conducive to hockey skating speed.  No, it's how quickly one can get a blade back to work that truly matters.  Actually, a little later in his lecture, Bracko makes the point that, a player can't really push to the outside until his or her skate gets out and under the shoulder.
I've found there are also some arguments when it comes to whether we can teach having quicker feet, but I happen to believe we can.
A lot of years ago I bought a computer device called the SpeedStep, and I several times talked to the developer.  And, when I suggested to him that part of quickness was mental, he responded something like, "Bingo!  You're one of the few to get it!"  As it turned out, he was a sport psychologist, and a professor in that area at a college down south.  And his device came about because of his belief that much of quickening the feet was mental.
Yes, his machine helped develop that, but so did telling my players to envision themselves running in place, barefoot and on a hot pavement or hot stove.  Most of us when we do that attempt to not let our feet remain on the pavement for more than a sec.  I've done other things along those lines, too, but all of them having to do with as much the mental approach as the physical.  (Come to think of it, I can recall Page' often claiming something to the effect that, "If a skater is going to be faster, first he needs to want to be faster."
Members might recall that I've recently offered a couple of affiliate programs that promise to help athletes jump higher — one being "Jump Higher in 30-days", and the other "Vertical Jumping", mainly because — as Bracko points out, there seems to be a correlation between skating speed and jumping ability.  (I've mainly hyped those and a speed video as ways players might get away from the ice for awhile during the current off-season, and still having a great chance to grow.)
As I watched Michael Bracko's work with young players, I might suggest a couple of things…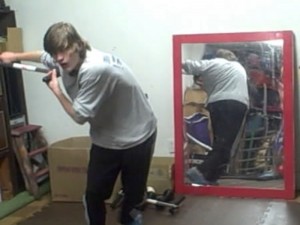 Few folks know about my Skater's Rhythm-bar (I plan on releasing that this summer), but that solves the arm pumping movements rather quickly.  In lieu of the R-bar, I'd have the kids initially skate without sticks, because I found those to cause a great many problems, and especially make it difficult for kids to concentrate on their hand, arm and shoulder movements.  After that, I suggest skating with only one hand on the stick.
I like Mike's idea of skating over cones in order to achieve the wide stride.
One thing that struck me as I watched his little guys working on their wide stride and quick recovery is my long standing argument with those who stay fixated on "edges" — beyond the point where such exercises are necessary, I mean.  In other words, I believe that isolating edges is a good thing — for a brief time.  However, once a youngster has come close to mastering those, I'd ditch that kind of slow, exaggerated drilling — for good.  Dr Bracko has given enough reasons not to have an accomplished skater spending too much time on one skater or the other, but I'll also suggest that large cross-overs — used in a game — leave a player stuck with one leg dangling up in the air, and totally unable to react quickly to enemy attackers or defenders.
In the Q and A period, I loved that Bracko recommended off-ice training for dealing with a lot of physical challenges.  In fact, my video on "Some Food For Hockey Thought" basically suggests that many physical attributes can be treated better off the ice than on it.  And, while Mike may not have wanted to confuse things with talk about "epigenetics", members here already know that it might be possible to get a head start on the hockey player's later needs by familiarizing his or her body with skating movements rather early.
Said like a true scientist, I guess, Dr Backo avoids claiming a direct correlation between off-ice jumping ability or running speed when it comes to being a fast skater.  However, he does suggest that there's evidence pointing towards such connections.  My take on that?  I think it's a matter of an athlete learning to translate his or her off-ice power or running ability to the ice.  In other words, if we take a non-skater who is both powerful and fast off-ice, those qualities aren't going to help him or her one iota on the ice.  However, the more his or her mechanics get mastered, I think the more he or she should be able to call extra leg strength and running speed into play.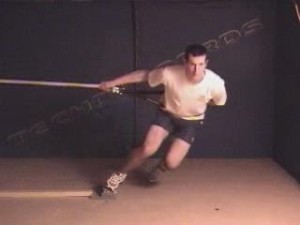 In answering another question, Michael suggests that getting to use the likes of a slideboard or treadmill off-ice is oftentimes better than no skating work at all.  And, that's how I feel about in-lines, especially with young or inexperienced players.  For sure, the elite athlete has to be careful what he does, but it's a totally different ball game for lesser experienced players.  (I also found Mike's comments on treadmill use interesting, although his thinking about the North American application doesn't surprise me at all.)
In closing, I always feel the need to put skating in perspective.  I mean, it definitely helps to be an efficient and fast skater.  However, there are other movements a skater has to make, other than speeding on a straight line.  So are there a myriad of other skills that go into the making of a complete player.  Ya, there are lots of fast skaters watching televised games from bar stools all winter long, mainly because they never learned to do the other things.
*
My social media buddy, David Carlson, runs an awesome Facebook group especially dealing with pro shop issues and skate maintenance.  So, if you're really into that stuff, see about joining Skate Sharpening University.
*
A lot more help can be found on Dr Bracko's website, Institute for Hockey Research.