I'd actually wanted to do a post akin to this one for some time, and it was ultimately planned for a little bit closer to the start of our next playing season.  However, a question came in via our Ask The Coach feature the other day and, although it wasn't specifically about what I planned to share, I think handling the two very related subjects together will prove helpful to a lot of folks.
From my side, I wanted to cover the benefits of watching hockey on TV, while that recent question has more to do with getting kids to watch at all.
— Dennis Chighisola
Benefits of Watching Hockey on TV
I think the best way to start is to assess those benefits of watching hockey on TV.  I mean, is there any value to it — at all?
So, to begin, I have to say that I know of no scientific studies done specifically having to do with hockey players watching television to learn. I did, however, find plenty of more general reports on the advantages and disadvantages of using video in teaching…
Probably the most useful for our need is a pretty good online article titled "Advantages and Disadvantages of Using Videos in eLearning".  And, to me, its assessments make sense.
From a positive perspective, it suggests that reading through books can become a tiring task; it has been proved that visuals are always more interesting and engaging than reading through pages after pages; thus, video can keep students engaged; video is obviously mostly very demonstration-friendly; those who are good visual learners will find a lot of advantages in studying video; and, training time is reduced to a great extent (probably because the video sets the fixed pace and length).
In what the article refers to as "The Darker Side", it addresses mostly things we're probably not concerned with at this time — as in the cost of an e-learning course, concerns with bandwidth if the video is hosted online, etc.
To be honest, I could have pasted in a thousand articles roughly discussing this topic.  What makes a lot of them not so relevant to our needs, I think, is that we parents and coaches use television and video in two different ways when it comes to hockey…
This is the video age, and it's a time when a lot can be demonstrated with the aid of digital images and explanations.  Of course, today we can find a kzillion videos on sites like YouTube.com, and I probably have a half-kzillion instructional type videos within this site.  Those, though, I'd classify as "on purpose" presentations, because the presenter and viewer are basically focusing on one, specific topic.
On the other side of the spectrum is the more "casual" viewing of a hockey game.  There, whether intentional or not, there's an opportunity for the viewer to learn something new.  Crosby, Ovechkin and a myriad of other highly skilled pro players are seemingly always pulling off something new.  Still, others might watch games with an eye towards a given position — like a young D watching his or her idol blueliner, or a goalie staying glued on his or her favorite between the pipes.
I've said for years that I have a hard time watching a pro game as a fan.  No, I'm usually fixed on something, maybe watching for the way a given team enters the offensive zone, how another team forechecks, or how a team works its powerplay.  Actually, yelling and cheering is a distraction to me nowadays, which tells you why you'll usually find me sitting off by myself at a live game where seating isn't dictated.  (Ya, I know, I'm no fun at all.  🙂 )
One of my last assignments before leaving Massachusetts was to do a lot with a high level AAA program's developmental aged kids.  They were right in doing that, too, because between their program and my own, that rink was pouring out nearly a hundred pretty skilled youngsters each year.  Anyway, I recall one parent couple being frustrated with their youngster's inability to stay on-side in games.  So, besides what I did with the just 7-year old in my practices, and besides another tip I gave them, I suggested they all watch the local Boston Bruins on TV together, and see if they could quiz the boy on what went wrong when an off-side infraction occurred.  If they had access to slo-mo on a few of those plays, all the better.
I think to really gain the benefits of watching hockey on TV, viewing has to be done often.  That little guy I just described wasn't going to learn in one night, but he'd surely get the drift of off-side if he watched more games, both alone and with his parents.  I mean, he'd initially probably struggle to get the concept, but numerous games later he'd likely spot the off-side plays before a whistle even blew.
One beautiful post I found for you as I surfed this subject was a pdf file titled PBS' Learning Triangle,  The reason I say it's beautiful, is because it paints a great picture of where "viewing" a given concept or skill falls in the instructional picture…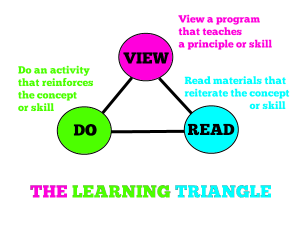 Ya, make no mistake about it:  one isn't going to really ingrain either a skill or a concept by purely watching, or from just a "VIEW" or two.
PBS was surely thinking in more general terms when they produced a graphic similar to that one.  However, for our purposes — as in exploring the benefits of watching hockey on TV, I'll suggest that the "READ" section of that chart relates more to a coach (or parent) showing a concept on something like a whiteboard, or demonstrating a skill out on the ice.
Then, with the information fairly well grasped by our hockey players, they should be ready to "DO" it on the ice.
Thinking more on that PBS idea, I see it as very much agreeing with some things I learned long ago in my favorite Phys Ed & Coaching college course, Principles of Motor Learning.  Yup, we want our players to experience new information through as many of their senses as possible.
Then, that problem expressed by the hockey dad…  Ugh…
In it, Todd J began with, "How do I get my boys to watch hockey games?  It doesn't matter if the game is live, on TV, youtube, getting them to watch a game is like pulling teeth!"  Todd goes on to say that, "I have tried games with their "favorite" teams and/or players and maybe get one period from them before they wander off.  And forget skills/drills/instructional type videos, five minutes and they are gone!  I've explained the benefit of watching games and discussing the good and bad plays, the goals, the stops, and so on."
Well, to be perfectly honest, there was never a problem with my son or grandson watching the local Bruins on TV, and by the time my grandson came along — with all the new cable offerings, hockey was dominating our family room during most of his waking hours.  (Geeeeeze, I think both boys had that kind of television programming etched on their brains, and probably a whole lot more than their latest algebra assignment.)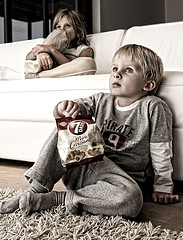 With all that, I don't want to offend a good hockey friend, but…  My guess is that the answer is written between the lines of something else Todd wrote…  For, when he said, "I grew up in Texas, so we all watched football religiously!  Every Sunday my Dad, Mom, and I would be on the couch watching the Cowboys play, then the second evening game no matter who was playing," I'm betting that his watching those games was purely his own idea — or, so it seemed to him.
I'm thinking back to when my son started watching the B's hockey games, and I'm recalling that they were usually on so late, that a very young one had to either miss the entire game, or only be allowed to watch the first period of play.  My wife and I were going to watch the likes of Orr and Esposito — that having nothing to do with my son, and it probably drove him crazy that he could hear parts of the game and our screaming from his upstairs bedroom.  So, in a way, it was maybe a bit of "forbidden fruit" for him, and the same happened with my grandson a generation later.
Oh, I eventually hoped that my son — and then my grandson — liked the game, but we all just lucked into that and their want to watch televised hockey.  Ya, it just ultimately happened.  My guess is that much the same happened with Todd's upbringing with football.  I mean, I'll bet dollars to donuts that his parents were going to watch the Cowboys, whether their boy wanted to or not.  Oh, I'm also betting that his dad was thrilled he did, but that wasn't going to happen by force.
Now, all is not lost in Todd's household, although some time has been lost, and a little more time might need to be invested to right things…  Ya, I said invested, because he will likely have to pay some of his own dues in order to ultimately have his boys reap the benefits of watching hockey on TV.
What I'll suggest is that Todd look long range at this challenge, and hope that his boys get the bug — be it in one month, one year, whenever.  If and when it happens, it'll be a good thing for the boy's development in the game.
I highly recommend that everyone reading this listen to my very short podcast on "Conversations with My Hockey Playing Grandson".  Along with that, I'm going to suggest that kids in the youngest age levels only want to do the fun stuff.  Oh, there might come a time when a player has to pump iron, run hills and more, but the secret to becoming a good (or great) player is to not rush what should be the later stages.
In a recent post on "Hockey Drill Ideas for One Help Many", I describe how my grandson, when he was very young, was better with his hands than he was with his feet.  I knew that he had to improve his skating if he was ever going to continue playing, but I also knew that to push him towards that was going to totally turn him off or discourage him.  No, I had to wait until he realized the need to work on his footwork, and for when he came to me for help.
So, that's what I'm kinda suggesting to Todd…  A lot like I had to wait for my grandson to "want it", I think he has to at least pretend that watching games isn't important to him.  In fact, if we think about it, my grandson wouldn't be worth a salt as a player if he didn't ultimately want to become a better skater.  And, in much the same way, Todd's boys aren't going to get a single thing from watching hockey on TV until they eagerly plunk down in front of that set.
In closing, I'd love to get some feedback on a couple of things…  First, what do others think about the benefits of watching hockey on TV?  Secondly, might you have any further advice for a good guy like Todd?
*
Slightly — and maybe even very — related to this topic is the benefit seen in using computer hockey games as a means of learning the game.  In fact, as I did my research for you, I ran across an awesome article titled "Video games have role as teaching tool for kids".  In it you'll discover some interesting things, including some quotes from my social media friend, Bob Nielsen.
Would something like this help Todd's boys?  I'm betting it will, IF he finds a way to make it their idea.